We strive to provide a clean, safe environment where parents/guardians can confidently know that their children are being provided the utmost care while they are able enjoy Sunday school and worship worry free.
Our children's ministry leaders have a driving passion to see families and children grow in Christ. All leaders and helpers in the secure children's area submit to an updated background check, as well as training in child safety.
"The Cove" is our newly renovated children's ministry area, and is a great clean space where our children can safely learn about the love of Jesus and grow in His word with others their own age.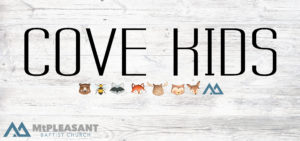 Our goal is that your children will come to know Christ, understand His word more, grow in their own spiritual walk, and be able to share the love of Jesus with others.
We believe that in conjunction with parents, we can help a child grow spiritually to know God's will for their life. Working together with parents and reinforcing biblical beliefs is the key to equipping our kids to face the world and be able to make decisions in their life based on God's word.
MEETING TIMES
Toddler Church
(3 & 4 year olds)
The Cove Children's Department Guidelines
We are so excited to begin Sunday School again! We have missed your child terribly!
In order to be as safe as possible in The Cove, we have added few new guidelines:
Check-in / Check Out Policy
In order to minimize the spread of germs, the following procedures will be in place:
● One parent/guardian will be allowed in The Cove welcome area with their child (this is for both check-in and check-out)
● When in line, please maintain 6 feet of separation from others
● A Cove volunteer will check the children in and accompany them to class
● No parents/guardians will be allowed past the half-door
● Temperature checks will be performed before children or volunteers will be allowed to enter
● All children will be brought out to their parent/guardian at check-out
Cleaning / Safety Policy
Cleaning of The Cove will occur after Sunday school and at the end of the morning service.
The following cleaning protocols are in place:
● All door knobs wiped down
● The welcome desk and computer equipment cleaned
● All tables and surfaces in used rooms cleaned
● Bathrooms wiped down after each use
● Each Cove kid will have his/her own craft supplies
Sick Policy
For the health and safety of all children, nursery staff, and the peace of mind of parents & guardians, children that have had the following symptoms within the last 24 hours will not be accepted:
● A known or suspected infectious illness
● A fever of 100.0+ within the past 24 hours
● Nausea, vomiting, diarrhea, or is feeling unwell
● Cough, sore throat, croup (except in the case of allergies)
● Colored runny nose
● Common cold
● Contagious skin rash
● Pink eye
● Lice
● Impetigo (infected wounds), boils, untreated ringworm
● Any symptom of usual childhood disease such as Fifth disease, hand-foot-mouth, chicken pox, etc.
● Use of an antibiotic for 24 hours or less
Temperatures will be checked before a child is allowed to enter the Cove area.
Age
Policy
To maximize learning activities and to maintain safety of all children in The Cove, the following ages will be set for each class:
● Nursery: 0 – 24 months
● 2 year olds: 2 BEFORE Sept 1
● 3 year olds: 3 BEFORE Sept 1
● 4 year olds: 4 BEFORE Sept 1
● Kindergarten: children who are entering Kindergarten
● 1st grade: children who are entering 1st grade
● 2nd grade: children who are entering 2nd grade
● 3rd grade: children who are entering 3rd grade
● 4th grade: children who are entering 4th grade
● 5th grade: children who are entering 5th grade
We can't wait to see your child!
We hope these guidelines will help you feel comfortable knowing
that your child will be safe and treated with the utmost care while in The Cove.