We strive to provide a clean, safe environment where parents/guardians can confidently know that their children are being provided the utmost care while they are able enjoy Sunday school and worship worry free.
Our children's ministry leaders have a driving passion to see families and children grow in Christ. All leaders and helpers in the secure children's area submit to an updated background check, as well as training in child safety.
"The Cove" is our newly renovated children's ministry area, and is a great clean space where our children can safely learn about the love of Jesus and grow in His word with others their own age.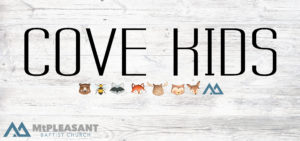 Our goal is that your children will come to know Christ, understand His word more, grow in their own spiritual walk, and be able to share the love of Jesus with others.
We believe that in conjunction with parents, we can help a child grow spiritually to know God's will for their life. Working together with parents and reinforcing biblical beliefs is the key to equipping our kids to face the world and be able to make decisions in their life based on God's word.
MEETING TIMES
Toddler Church
(3 & 4 year olds)