Our children's ministry leaders have a driving passion to see children grow in Christ with their families. We strive to provide a safe atmosphere where families feel at ease leaving there children to learn and grow with others their age.
Our goal is that your children will come to know Christ, understand His word, grow in their own spiritual walk, and be able to share the love of Christ with others. We believe that in conjunction with parents, we can help a child grow spiritually to know God's will for their life. Working together with parents and reinforcing biblical beliefs is the key to equipping our kids to face the world and be able to make decisions in their life based on God's word and not man's.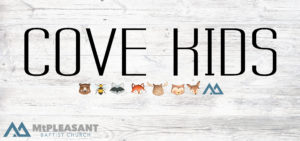 Join us in our newly renovated children's ministry area "The Cove." This is a great safe space where our children can learn and grow in the Gospel.
MEETING TIMES
Sunday Morning
Toddler Church (3 & 4 year olds)
Children Church (5 & 6 year olds)
Junior Church (2nd through 5th grade)
Children's Choir (4 yrs – 8th grade)
6 p.m. (during school year)
Word of Life (nursery – 6th grade)
6:30 – 8:00 p.m. (during school year)